PAST EVENTS presented by Grazing BestPrac
Composting in Central Queensland
Workshops were held in Biloela 26th May and Rockhampton 27th May 2013
Presenters:- Eric Glasser from Future Ag Composting and Steve Capeness from Advanced Nutrients
Supported by: Callide Valley Healthy Soils Group and Healthy Soils Inc. (based in the Rockhampton area)
Composting is not only a benefit to your soil, plants and animals but it is the most valuable tool to sequester carbon and reverse global warming. Farmers and Graziers have the ability to save our plant while producing healthier food and increasing their profits. Eric explained the 'how to' of composting and Steve showed us the benefits of adding nutrients to the compost pile so the compost becomes a means of adding the nutrients lacking to balance your soil and improve plant health.
The Biloela workshop included a visit to the compost pile that was started earlier this year at Shane Krafft's property at Thangool. The compost pile is a project of the Callide Valley Healthy Soils Groupmade up of farmers and graziers from the area who meet regularly to keep up to date with the lastest science and methods that prove that agriculture has a bright future.
Dr Sandrine Makiela from CQ University also spoke about soil health at the Rockhampton workshop.
If you are interested in joining either the Callide Valley Healthy Soils Group or the Rockhampton based Healthy Soils Inc. please contact the office on 0438 395 255. New members are always welcome.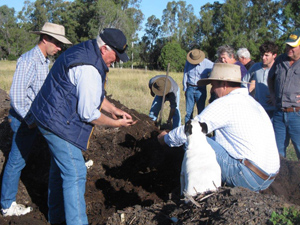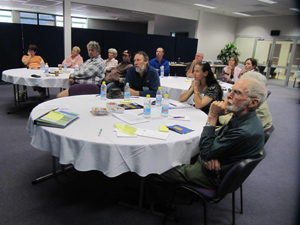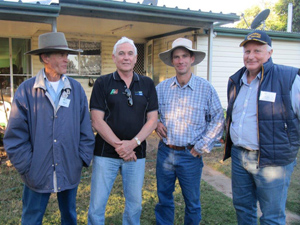 NTS Certificate in Sustainable Agriculture
Monday 13th - Thursday 16th May 2013 and Field Day Friday 17th May 2013
Was held on the Capricorn Coast at Seaspray Resort, Zilzie with a Field Day on Friday 17th May. Thank you to Julia and Gerard from Coco's for their delicious food and smooth running of the Seminar.
Graeme Sait and Julie Sutherland from NTS presented this world renowned 4 day Seminar. Twenty five people attended this Seminar and left with plenty of hints and ideas for both their agricultural and their human health. Graeme and Julie made themselves available in the breaks for one-on-one discussions so everyone had the chance to ask their own questions. This seminar gives us the understanding of the link between our soil health, plant and animal health and our own health and how we can improve them all, while helping the environment and our profits at the same time.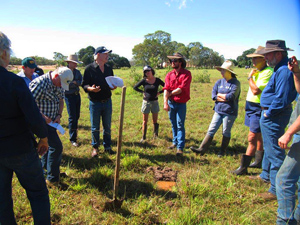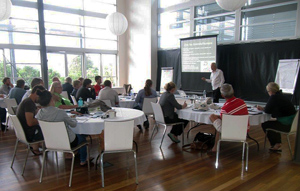 Grazing BMP Nutrition Matters - One day Seminar in Rockhampton
Wednesday 17th April 2013 presented by Mick Alexander and Jim Wade
This day was a valuable insight into the process from the soil to the plant to the cattle. What are your options if this isn't giving you the weight you desire or your breeding isn't going well? If you missed it and would like to attend the next one, please phone 07 4938 3919 or email mick@grazingbestprac.com.au
Andrew Childs from Blue Ribbon Stockfeeds, Jim Wade from Wade Agricultural Consultancy and Mick Alexander from Grazing BestPrac.
Grazing BestPrac has hosted a one day seminar on Soil, Pasture and Beef Nutrition.
In the past we have focused on the soil and plant aspects of grazing systems.
We have now secured the support of well known Beef Nutritionist Jim Wade of Wade Agriculture to run a one day program.
This program will unravel the confusion of planning nutrition for growth.
The outline of the day –
· Key soil nutrition issues – reading a soil test, making decisions
· Key pasture nutrition issues – reading a plant test
· Key Animal nutrition issues – matching pasture to animal requirements.
Speakers –
Jim Wade Wade Agricultural Consultants
Mick Alexander Grazing BestPrac
Soil, Plant and Animal Nutrition Basics – maximise your profits!!